About Us
---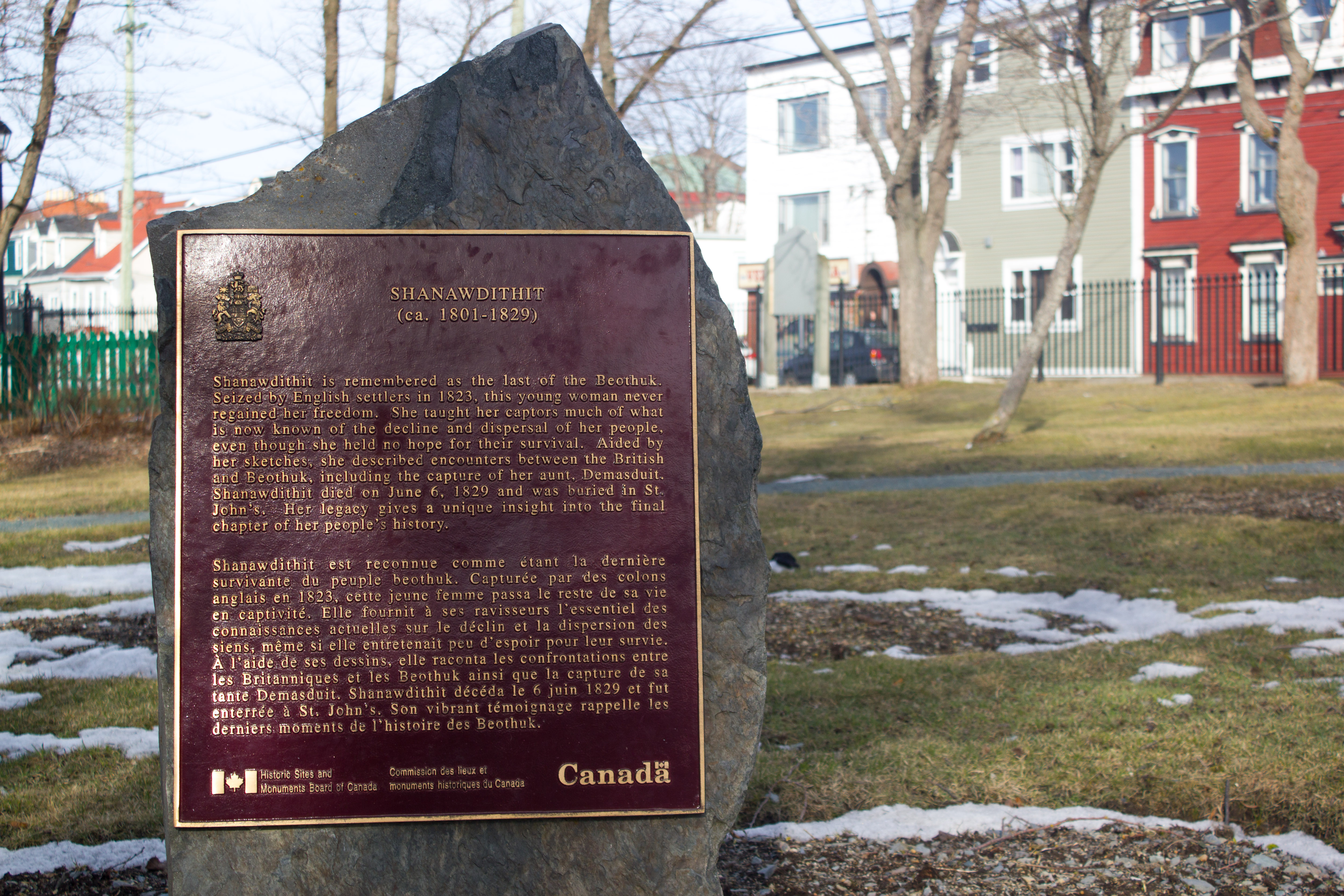 The Shanawdithit monument in Bannerman Park, St. John's. (Photo by Diego Pani)
Neighbours: St. John's
Neighbours: St. John's is an interactive archive of stories from cultural communities in and around St. John's, Newfoundland, Canada. It is part of a larger project about cultural diversity in our province that has also resulted in a smartphone app. The stories included on this website range from comical reflections on local traditions and experiences to tales that address the challenges faced by newcomers to the province. Some of the stories are celebratory in tone, while others are more challenging. We hope that they will inspire users of this website to listen more deeply to their neighbours.
Background
Between 2009 and 2011, the Research Centre for the Study of Music, Media, and Place (MMaP) at Memorial University of Newfoundland conducted a research project entitled St. John's Many Voices. Led by MMaP's founding director, Dr. Beverley Diamond, a team of researchers conducted over ninety interviews with individuals from diverse ethnic and religious communities.
The resulting oral history archive contains recordings of these interviews, as well as manuscripts, photographs, archival audiovisual material, and new performance materials.
In 2014, MMaP hosted a day-long meeting with community stakeholders about the creation of one or more exhibitions on cultural diversity, which would draw from the earlier project. In attendance were representatives from a wide range of groups, including immigrant organizations, museums and archives, city and provincial government departments, exhibit designers, academic colleagues from across Memorial University of Newfoundland, the Harris Centre for Regional Policy and Development, and the Office of Public Engagement at Memorial. The meeting focused primarily on the question of how to extend the visibility of diversity in our city. The idea of "neighbours" was adopted as an unifying theme. The participants felt that projects emerging under the umbrella of the Neighbours Project should address questions of belonging, different kinds of cultural alliances and connections (including intergenerational and cross cultural ones), and ethnic diversity. The meeting participants emphasized that the project should produce exhibits that are public, mobile, and interactive, and should speak to a wide range of audiences. This site is one of the projects that resulted from the 2014 stakeholders meeting.
How to use this website
This website features fascinating stories from cultural communities in and around St. John's. The site contains audio stories, essays about cultural diversity and immigration in Newfoundland and Labrador, and "community profiles" that provide insight into the histories and cultural traditions of some of the cultural communities that are represented in the stories.
Each story is tagged with keywords that allow you to navigate easily to topics that interest you, as well as biographical information about the storyteller. There are several ways to search for stories:
Search by location: Use the map to find stories. If you hover over an icon on the map, the story's title will appear. When you click on an icon, an audio player window will open with more information about the story.
Search by keyword: Use the search bar to input keywords, or click on the keywords on the right-hand search pane. Clicking on a keyword will bring up stories that have related themes.
Browse by story titles: Browse the titles and summaries of stories in the lower search pane.
The "Neighbours: St. John's" Phone App
We collaborated with award-winning radio documentarian Chris Brookes (Battery Radio) to develop a free phone app that makes available select stories from the St. John's Many Voices project, as well as additional interviews conducted in 2016 by Chris Brookes, Beverley Diamond, and Meghan Forsyth. Stories in the archive focus on immigration, belonging, and cultural connections. The primary content of the app is 27 audio narratives, which are accompanied by new and archival photographs, storyteller bios, community portraits, and links to related websites and online videos.
The stories cover an extremely wide range of topics. You will hear stories about capelin, Aboriginal culture, fashion dilemmas, raising children, and Minute Rice. You will hear from Tony Silver, whose father was a stowaway on a Portuguese fishing ship and ended up in St. John's, where he founded a tailor shop on Freshwater Road. Mi'kmaq artist Jerry Evans talks about the Shanawdithit monument in Bannerman Park and his Beothuk and Mi'kmaq heritage. He relates his frustration with how Newfoundland and Labrador culture is often depicted as "all things Irish." You will also hear about Cubans defecting at Gander and a young woman's experience of wearing the hijab. These are just a few of many fascinating accounts featured on the app.
You can access the app either as you walk downtown St. John's (and some outlying areas, such as Middle Cove Beach), or remotely, from the comfort of home. If the app is turned on, your phone's GPS will automatically alert you to a story that is connected to your location. Using GPS, the app will not draw on your phone's data plan.
The phone app is available for free download from the iOS and Android app stores.